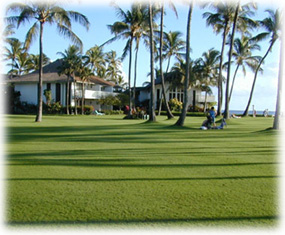 How do I check Kiahuna #22's availability and make a reservation?
It's as easy as 1-2-3:
Email or call us at 805-663-0536 or 805-558-0686 to see if the beach house is available when you wish. We will check availability and get back to you immediately.
Upon receipt of some % of the rental fee (check please), we will then book the beach house for you, and Castle Resorts will mail you a confirmation.
The remaining full balance must be received 30 days prior to arrival, and the beach house is yours!
All Rates Include
Two full maid services per every 7-day rental period

Checkout cleaning fee

Complimentary use of Poipu Beach Athletic Club

Complimentary beach towels & chair rentals
Additional towels, trash or full maid services may also be arranged for at additional fees.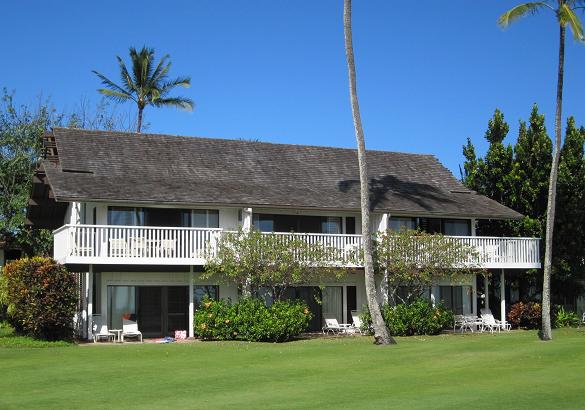 Condo #22 is a middle, top floor, prime-view unit in Building 5 immediately opposite Poipu Beach
Current Owner Direct Rates
We have been requested not to quote specific prices on our website.
However, the rack rate for our unit is $399 per night, more at some times of the year. We are permitted to offer an "Owner's Discount." There is an additional and mandatory state tax of 13.416%. We pay the cleaning fees.
We offer a further discount on stays of one week or longer, depending upon the length of stay and time of year.
Please call 805-663-0536 or 805-558-0686.
Rental Policy
Minimum stay: 5 nights.
Rental Fees: 100% is due 30 days prior to arrival.
Deposit: Deposit is due upon booking to guarantee your reservation.
Payment method: By personal or cashier's check.
Cancellation Policy: If booking is cancelled 60 days prior to scheduled arrival, we will issue a full refund. If booking is cancelled within 45 days of scheduled arrival, a refund will be contingent upon our ability to re-book Kiahuna #22 for that time period.
Local Contact: Castle Resorts located on the property.
Transient Accommodations Number: 40063776
Why rent directly from owners?
We guarantee you the exact beach view condominium you wish to rent. Each unit is individually owned and uniquely furnished with special amenities. You can return to the same beach house every year and know what to expect. When you rent from a rental corporation, you are getting only the "type" of unit you request - not the exact condo. Our guests return to Kiahuna #22 year after year, knowing the facilities and ambiance will be at the same high standard as before.
You receive a discounted rate by renting directly from us. Because we assume responsibility for the rental, we are able to reduce the rack rates when we deal directly with our guests. This arrangement is with the full support and blessing of Castle Resorts.
Is "direct rental" less expensive for our guests?
Yes, it is. You receive a lower rate because you are dealing with us directly, without an intermediary.
The two rental organizations that rent our Kiahuna property for us are large global companies and must build in marketing and sales infrastructure. When you deal directly with us, all the infrastructure is just - us. We do all the dealing with Castle Resorts for you and pass on the owner's discounts and benefits.
Will our guests receive Full Service with direct rental?
Yes, you will. We coordinate condo availability and expedite your reservation requests with Castle Resorts, taking advantage of the privileges we have as owners. We confirm everything with the reservations staff at Castle Resorts, and Castle will send you their confirmation directly.
When you arrive on property, you check in at the Castle Resorts front desk to pick-up your key. You enjoy total access to the 24-hour front office located on the property close to your condo. If you have any questions or desire any additional service, just call Castle to receive full service and support as our guest.

Request Reservation